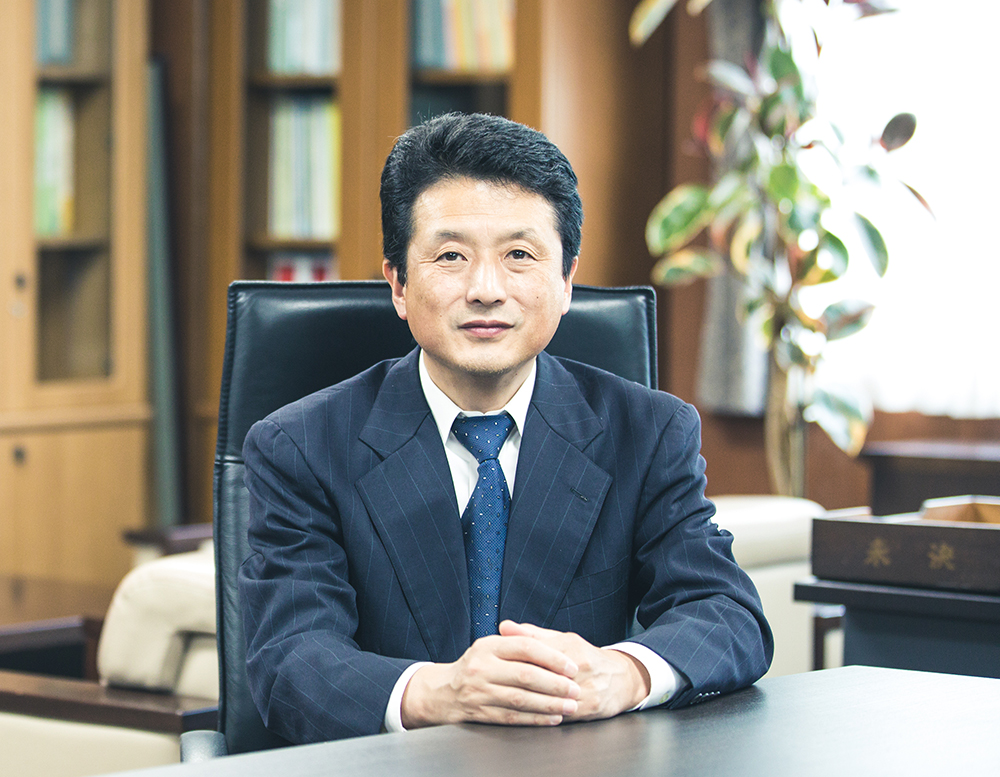 Dr. Osamu Umezawa,
Dean, Graduate School of Engineering Science
Yokohama National University's fundamental principles are "Be Active," "Be Innovative," "Be Open," "Be Global," and "Be Diverse". With the prioritization (reorganization) of graduate schools in 2001, the educational and research organization was shifted from a traditional college-based structure to a structure with focus on graduate school, and the Graduate School of Engineering was established to provide fundamental education in science and engineering disciplines relevant to manufacturing. The graduate school has implemented various educational reforms to realize these principles. In 2007, the PED (Pi-type Engineering Degree) program was introduced in master's and doctoral programs, centered around studio education, aiming to cultivate practical engineers and researchers capable of integrating science and technology in practical contexts and possessing a broad perspective. The graduate school has also been actively pursuing globalization. Starting from the academic year 2015, lectures have been conducted in English, and international internship subjects have been introduced in the curriculum. Furthermore, the graduate school has also established double degree programs, enabling students to pursue multiple master's or doctorate degrees by advancing thesis research in collaboration with the graduate schools at overseas universities.
In 2018, the Graduate School of Engineering was reorganized and replaced by the newly established Graduate School of Engineering Science. The aim was to contribute to the further development of fundamental science and engineering for manufacturing, and to foster individuals who can play central and leading roles in the future manufacturing. The international excellence of the Japan's manufacturing industry has relied heavily on the superiority of productivity in terms of both quality and quantity in the production field. However, even in these conventional industrial structures, there is a strong demand for further strengthening and development of industrial competence, especially through innovation. Specifically, in fields related cutting-edge technologies such as information and communication technology, biotechnology, nanotechnology, and green technology, which are driving industrial growth, there is a need of new engineering science approach built not only upon engineering, which has supported industrial development so far, but also science, incorporating the study of scientific disciplines. The city of Yokohama and the Kanagawa prefecture, where our university is located, are home to numerous advanced public research instituties and private companies. The realization of nurturing individuals who can drive innovation is eagerly anticipated across various industrial sectors.
By establishing the Graduate School of Engineering Science, it has become possible to award degrees not only in engineering but also science for the fields of chemistry, physics and mathematics. The subjects offered by the Graduate School of Engineering Science are categorized horizontally into four groups (information, science, engineering, and rofessional course groups) and vertically into three groups (Core, Major, and Specialized courses). This format makes it easier for students to organize their studies. By making information course group subjects compulsory for all students, and giving opportunities for engineering students to take science course group subjects and science students to take engineering course group subjects, the graduate school will cultivate individuals who can think with a broad and flexible mindset.
In 2021, the graduate school established the Management Advisory Council, which includes external experts, to constantly incorporate societal perspectives into its operation. Every year, the council provides consultation on various aspects such as the desired attributes of graduates, the approach to graduate education, and the progress made in educational initiatives. Taking into account the advice and suggestions received, the graduate school conducts evaluations and takes measures in areas such as quality assurance in specific academic fields, adjustments and improvements to course contents and teaching methods, and the establishment of educational management systems. Through these efforts, the graduate school aims to ensures the continuous improvement of the quality of education.
At present, there are approximately 750 students in the master's program and approximately 160 students in the doctoral program, studying under the guidance of around 150 full-time faculty members. The number of graduates has reached approximately 16,000 since the Faculty of Engineering was established in 1963, and they are active all around the world. We sincerely hope that you, following the footsteps of these alumni, will strive in your studies with the traditional "Meikyo Shizen" spirit together with colleagues gathered from all over the world at our lush green Tokiwadai campus, and grow as individuals to who become leaders in society.
Dr. Osamu Umezawa, Dean, Graduate School of Engineering Science